This page is to assist overseas nationals with working rights in Australia who have lost jobs or reduced hours due to COVID-19. I am a food writer who cares about your plight. I am not qualified to give you legal advice. Please use this page as a starting place. I can take no responsibility for your actions or the consequences that may arise from them. I wish you all the best and I want you to know that many people care about your situation!
Everything in blue has been added in the past 24 hours.
Not on my mailing list for overseas workers? Sign up here.
Keline is a visa worker in Hobart
Reasons to be hopeful…
On July 23, the JobKeeper review will be announced. Hopefully there will be an extension of eligibility.
I had a piece in The Age on July 13 about visa holders. Here's an extract:
"Beyond simple human need, there are good reasons to assist temporary visa holders.
The hard lockdown of social housing towers in Melbourne has brought into broader consciousness the clear link between poverty and virus transmission. Temporary visa holders without resources are forced into crowded accommodation. They may scrabble together whatever work they can find, even when unwell. They may be unwilling to seek medical assistance due to fear of the cost – coronavirus testing and treatment is free but transport and other auxiliary costs are not. The $1500 hardship payment for those required to self-isolate in Victoria extends only to skilled temporary workers on 457 and 482 visas, a small subset of this cohort. What are the others supposed to do? Making it easier for everyone to stay healthy is better for us all." Read the whole piece.
Read my earlier story from The Age and Sydney Morning Herald
Federal MP Josh Burns (below) attended the Attica Soup Project that I help run recently. He spoke to visa holders at length. Josh is the Labour MP (ie. not in government). He is aligned with our views. He will continue to work for change.
* Businesses are reopening and they will need staff, hopefully you!
There are different rules in different states:
– NSW allows 50 patrons
– Victoria is locked down until August 19
– South Australia is allowing a maximum of 80 patrons across all dining areas whether enclosed or outdoors with a maximum of 20 in each dining area.
– West Australia allows 20 patrons and will change density rules to 1 person / 2 sq m from June 6
– Tasmania is allowing 10 patrons in each dining area (max. 20)
– Queensland is allowing 10 patrons, with 20 in outback areas; they're considering 50 people soon
– Northern Territory has allowed venues to open with restrictions and rules
– ACT currently allows 20 people
Media coverage
SBS Food writer Lee Tran Lam wrote this story about visa holders in hospitality.
Abbir Dib is a journalist in Melbourne, working on a news program at RMIT University. Her parents have run restaurants since emigrating to Australia 30 years ago and the issues of temporary visa holders really resonate with her.
She interviewed me for this news program – head to around 9 minutes 40 seconds for her report.
I think the broader public (and apparently the PM and Treasurer!) don't really understand that temporary visa holders are the backbone of Australia's hospitality industry. It was really important to me to put faces to the stats and try to round out the picture of who visa holders are. So I wrote this piece for the Age & Sydney Morning Herald Good Food section with seven portraits of visa holders. I also wanted to get employer voices in the story. If anyone knows how important overseas workers are, it's the owners who couldn't run their businesses without them.
National news show "A Current Affair" recently covered visa workers in hospitality in a very positive light. I was interviewed as part of the story which you can watch here. This is a show watched by more than a million people around Australia – I'm sure a lot of people had their eyes opened to the issues you are all facing because it had such mainstream coverage.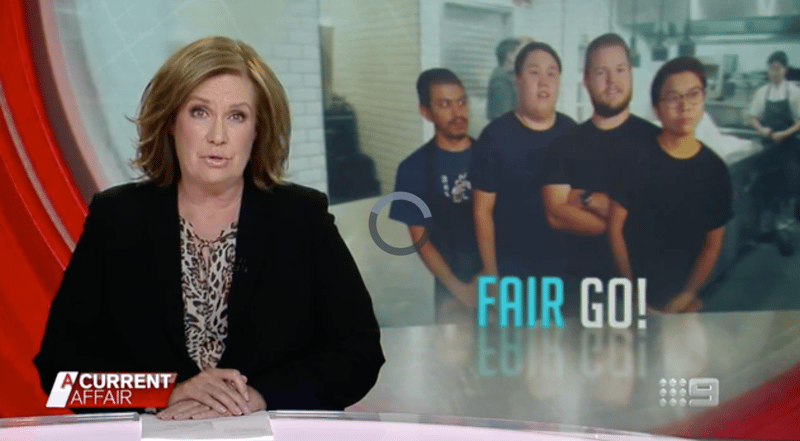 More Media Coverage:
There's a lot of media coverage of the exclusion of temporary visa holders from assistance packages and the hardship this is causing.
Do you need food?
NATIONAL
Hospitality workers impacted by the crisis can access a daily $25 voucher with Deliveroo to participating venues around Sydney, Melbourne and Brisbane. To redeem, simply email [email protected] with proof of employment in the hospitality industry.
The Salvation Army offers crisis and emergency support, including food and housing.
MELBOURNE
I am part of the Attica Soup Project. We are giving away soup and fortune cookies on Thursday mornings to visa holders. The location is Attica, 74 Glen Eira Road, Ripponlea. You MUST place your free order and book a time slot. Bookings open every Tuesday. Visa holders who come for soup will also be given pro bono legal advice over the phone by Attica's immigration agents.
Gelato Messina is distributing food made by FareShare in Brunswick. As they say, "We're helping out by opening our East Brunswick warehouse as a designated pick up zone for FareShare's nutritious meals. If you would like to redeem a meal, or know someone who does, we'll be offering weekly collections on Thursdays and Fridays, 4-8pm."  Order it here.
Food packages are available every Friday at 360 Church Street, Richmond via the Marjorie McGregor Relief Fund. This is specifically for temporary visa holders. Contact Rachael

[email protected]

, 0403 560 062. Rachael says this: "I'm a hospo worker and although I have PR now it took me a lot of blood, sweat, tears and cash to get to where I am now!  I just cannot believe how blind-sighted this government is being in relation to what temporary visa holders do for this country." SAME!!
COVID EAD is an amazing, heartwarming initiative run by hospo people that will deliver meals to your home. Register here.
Clamms Seafood is giving away free fish to out of work hospo workers on Saturdays 9am-noon. 1/2 Somerville Rd, Yarraville.
Lentil as Anything is offering pay-as-you-feel food and meal delivery in Melbourne.
Crossway is a church group that can assist with groceries in the south-east and Burwood areas of Melbourne.
The following charities are increasing capacity to cope with growing need. Contact them to find out about meals and groceries: Salvation Army Bourke Street Depot, St Vincents Food Vans, St Peters Eastern Hill, St Marys House of Welcome, Melbourne City Mission, Father Bobs. Many of them will do home delivery for isolated people.
SYDNEY
MELB & SYD Prominent chef Neil Perry has turned two of his restaurants into large-scale kitchens making meals for charity and specifically for visa workers. Turn up to Rockpool in Melbourne (at Crown) and Rosetta in Sydney (118 Harrington Street, The Rocks) on Monday-Friday noon-3pm (4pm in Melbourne) and they will have something delicious for you. Find out more here.

Hearth & Soul in Newtown, Sydney is giving away meals to anyone who needs them.

Lentil as Anything in Newtown is offering pay-as-you-feel food and meal delivery.
Ask Izzy is a great resource for organisations helping with food relief. Input your postcode and it will bring up a list of local charities that will help in your area.
Fundraising to employ a chef

I'm an ambassador for food charity FareShare. Normally, FareShare is powered by a volunteer workforce but at the moment  volunteers have been replaced by professional chefs. I am fundraising to employ a visa worker at FareShare. See more here.
Superannuation
Students who have been here longer than 12 months, skilled visa holders and temporary resident visa holders (including working holiday, according to new factsheet) are now able to access $10,000 of their super this financial year ie. before June 30.
Here is the info.
Here is the factsheet.
How to apply
Start applying here (once you have a MyGov account – see How to apply above)
This money is available tax-free. 
Accessing super is a last resort but if you need it, sign up here. (You will need to set up a MyGov account if you don't already.)
Once you've applied, you should receive money within two weeks.
Don't get scammed – it doesn't cost money to get your super. You don't need an agent.
The information is taken a statement by Acting Immigration Minister Alan Tudge.
Here's the previous ATO discussion which excluded visa holders – ie this is old info, but keeping it here just in case.
Jobkeeper
On Wednesday April 8, Parliament passed the JobKeeper legislation without amendments. That is, temporary visa holders are not included in the assistance package to employers. Labor proposed amendments but they were voted down and in the end, the legislation was passed. I am so unhappy about this! I feel like the Government doesn't understand that many temporary visa holders have built lives and futures here. Going 'home' is not an option. Living on no money is not an option. We are not giving up!
JobKeeper requires employees to be "an Australian citizen, the holder of a permanent visa, a Protected Special Category Visa Holder, a non-protected Special Category Visa Holder who has been residing continually in Australia for 10 years or more, or a Special Category (Subclass 444) Visa Holder".
I encourage you to write or call your local Federal MP and explain to them why temporary visa holders must be included in  JobKeeper. Here is a letter for you to adapt.
There are at least two reasons to stay hopeful. The Treasurer has the discretion to change the rules of eligibility for JobKeeper and the scheme is undersubscribed by $60 billion. The Social Security minister has the discretion to change who is eligible for JobSeeker. This means that the main government benefit packages could be extended to all visa holders if the government decides. So…we keep pushing! 
What are temporary visa holders eligible for?
Here is a government summary including relaxation of six-month rule for WHV in certain occupations, relaxation of 40 hours fortnight rule for student with some employers and possibility of extending visas if unable to return to country of origin.
Here's a great rundown on who is eligible for what from agents Absolute Immigration.
Here's a handy rundown on which visa categories are eligible for what from migration agents Seek Visa.
VISA CONDITIONS FOR SKILLED VISA HOLDERS: Some visa conditions have been relaxed – eg skilled visa holders who have been stood down, but not laid off, will maintain their visa validity and businesses will have the opportunity to extend their visa. Businesses will also be able to reduce the hours of the visa holder without the person being in breach of their visa condition.
The above was announced in this statement on Saturday April 4 by Acting Immigration Minister Alan Tudge.
Assistance:
Victoria, ACT, Tasmania and South Australia have launched funds for international students. The Tassie & ACT funds are for all visa holders.
STH AUSTRALIA
The South Australian Government, in partnership with the state's three public universities, will match funding to alleviate student hardship as a result of COVID-19. The funding will be distributed between the University of Adelaide, Flinders University and the University of South Australia to distribute to their pathway and international students.

A $500 emergency cash grant will be available to other international students not studying at one of the public universities, currently enrolled in a course, living in Adelaide and who meet the criteria.
VIC
International students will receive a relief payment of up to $1,100 as part of the Victorian Government's $45 million International Student Emergency Relief Fund.
The fund will provide a one-off payment to students in need while expanding emergency provisions for those experiencing exceptional circumstances.
There's more info at Study Melbourne. There are two streams. Stream 1 is for students at university or TAFE. Stream 2 is for students at other institutions. Not every institution is eligible. Here's the list of Stream 2 eligible institutions. Register here. Do you have questions? The phone number: 1800 056 449 & press option 1. 
Students are able to access legal assistance here.
Find out about other assistance here.
Other help in Vic
ACT
Here's an extract:
"The ACT has committed $450,000 in emergency relief support for temporary visa holders and international students after the federal government "refused" to act.
ACT Minister for Multicultural Affairs Chris Steel said his government was forced to act after the federal government refused to.
"We have been advocating to the Federal Government for people on temporary visas to be covered by JobKeeper and remain connected with work," he said.
"The Australian government has refused, and as a result many Canberrans on temporary visas have now lost work and now have literally no income."
Read more here in this SBS News article from 28.4.20.
TASMANIA
Read more here  on Tasmania's plan in this ABC article published 22.4.20.
Here's an extract:
The Tasmanian Government has unveiled a $3 million package to support around 26,000 temporary visa holders stuck in the state because of the coronavirus pandemic. Visa holders who can demonstrate immediate financial hardship will be eligible for $250 for individuals, and $1,000 for families.
Premier Peter Gutwein said it was "only fair" to support people who had contributed to the state's economy. "It's important we support these people who've been working in our community earning an income and this package will take the steps necessary to do that," he said. "I don't agree with the simple message that temporary visa holders should just go home. In many cases they can't."
***It's not enough but it's a start!***
Tasmania has offered rent relief to everyone including visa holders. Find out more here.
What are the rules?
Contact your migration agent for information about your particular situation.
The visa holder rules have not changed in most cases. Here's more info about visas and their conditions.
Is your visa running out? There is a new COVID-19 visa now available. It allows you to remain in Australia if you have no other visa options and are unable to depart Australia due to COVID-19 travel restrictions.
Here's a handy rundown on which visa categories are eligible for what from migration agents Seek Visa.
Here's a handy Q&A from a migration agent relating to 457 and 482 visa holders.
This means that you are still bound by the terms of your worker or student visa, other than the specific exceptions mentioned below.
some people are able to access up to $10,000 super. Students who have been here longer than 12 months, skilled visa holders and graduates can access up to $10,000 of their superannuation. This should be tax-free.
the number of hours that those on student visas may work has been extended. Students are now able to seek employment in excess of 40 hours a fortnight at particular workplaces, including aged care homes and supermarkets. See here for more information. This exemption expires May 1, except in certain industries.
There's also this: a new COVID-19 visa is now available. It allows you to remain in Australia if you have no other visa options and are unable to depart Australia due to COVID-19 travel restrictions.
Skilled visa holders who have been stood down, but not laid off, will maintain their visa validity and businesses will have the opportunity to extend their visa. Businesses will also be able to reduce the hours of the visa holder without the person being in breach of their visa condition.
Overseas students are unable to attend their tertiary institution. However, the rules have not changed. We hope they will! But currently, they need to continue paying their tuition fees in order for them to continue being educated by the institution. If tuition ceases, then visas could potentially be cancelled as they are not meeting visa requirements.
Many New Zealand citizens are not entitled to benefits. Here's an article about that.
This tip for sponsored workers was forwarded to me from a migration agent: If your sponsoring business has closed temporarily, talk to your boss and ask them to put you on paid leave or unpaid leave (according to your situation). This way, you will continue to receive your payslips (even if they have no amount) and potentially be useful in the future.
Rent & evictions
Many overseas workers are very worried about an immediate loss of income which means they don't have enough money to pay for rent, bills and food.
If you haven't already, write a letter to your real estate agent or landlord asking for a rent reduction. I have written a template here which you can adapt.
If you can get a letter from your employer saying that you have no/less work because of COVID-19, give that to your landlord too. Here is a template for the letter from your employer.
Please note: It is ILLEGAL for your landlord or real estate agent to suggest you use superannuation to pay rent. See this report and show it to your landlord or agent if they advise you to use super.
PM Scott Morrison announced 29.3.20 that states and territories had agreed to a six month moratorium on evictions for renters in financial distress unable to meet their commitments due to the the impact of COVID-19. "The measures would prevent landlords evicting tenants from both residential and commercial leases if those tenants can point to the coronavirus crisis as the cause of their financial stress."
However, the States and Territories are in charge of residential tenancy law so each state needs to take on this moratorium and make it law. It's a very messy and confusing situation at the moment, as reported in this Guardian article. 
Please note that unless you've made an agreement with your landlord, rent arrears will still be owed. Paying less rent doesn't mean you won't still owe the full rent.
State by state info:
Housing Assistance
The Australian Homestay Network has set up a special COVID stream to assist international students who have lost their jobs. They are offering free accommodation in people's homes. Find out more.
There's a news report about homestays here.
Things you can do:
– prioritise food and other essentials above rent as it is hard for landlords to evict (see above re rent & evictions)
– ask your utility (electricity, gas, phone) providers for special consideration or payment plans for your bills because of financial hardship due to coronavirus. There are contacts for many providers here; otherwise look for a phone number on your bill.
– if you have any direct debits, stop them unless you really need them
– if you have Afterpay commitments, request a hardship payment plan via this form.
– contact your migration agent to ask for their latest advice.
– sign my petition and this petition advocating for support for temporary workers.
– look for other work.
Getting work:
If you are working, please keep yourself safe. Employers must do everything they can to ensure a safe working environment and minimise risks of spread of COVID-19. See these ACTU guidelines.
If you are a sponsored worker who has lost their job, there has been no official change to the requirement that you stay with that employer. This may change.
The Federal government has just launched a JobsHub listing employment around the country.
The Victorian government has announced a job matching scheme. Sign up here. Temporary visa holders are able to sign up!
LinkedIn says this is who is hiring now.
BarCats is helping hospo workers find jobs.
https://www.barcats.com.au/sign-up-staff
Project Displaced shares news of jobs. It's been set up to support airline, arts, tourism and hospitality workers during COVID-19.
There are jobs here:
Perth: https://www.adecco.com.au/transport-shipping-logistics-jobs/pick-packers/2966654
Melbourne:https://www.adecco.com.au/transport-shipping-logistics-jobs/pick-packers/2948452
Sydney:https://www.adecco.com.au/transport-shipping-logistics-jobs/pick-packers/2969523
Coles is recruiting.
Woolworths is recruiting.
ALDI is recruiting.
Dominos is recruiting.
Blue Cross aged care is recruiting.
Pinnacle People may be hiring.
Linfox is hiring.
Don Smallgoods is hiring.
Services Australia is hiring (Centrelink etc).
NSW Government is hiring.
BHP is hiring.
Telstra is hiring.
Med-Con is hiring (mask manufacturers, country Vic)
Do you need help with job applications? 
Melinda Davis works with Skills & Jobs Centre at Melbourne's Box Hill TAFE. She has kindly offered free assistance with writing a resume, putting together a cover letter or anything to do with the job search process. Email: [email protected] or call 0429 341 755.
Government schemes:
If you're a foreign worker, you are unlikely to be eligible for any payments from Centrelink, including JobSeeker. Learn more here.
Employee advocacy:
Hospitality union Hospo Voice is demanding that the Federal Government provides a living wage for every worker affected by this crisis. They are also tallying lost hours and income at I Lost My Hospo Shift.
My list:
Know someone who wants to be on our registry for overseas workers? They can sign up here.
Mental health crisis:
Do you need to talk to someone right now? There are people you can talk to now. You can also text Lifeline on 0477 13 11 14.
Health:
Coronavirus info in many languages
If you need to consult a doctor, I know a GP who will do free phone consultations. Please message me.
FURTHER INFORMATION

Hospitality hub Worksmith has collected info and links
Restaurant & Catering Industry Association Coronavirus Hub

FairWork rights & responsibilities as applied to coronavirus